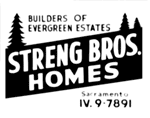 The Streng Brothers, Jim and Bill, built just under 4,000 homes in the Sacramento Valley between 1959 and about 1989. The majority are Carter Sparks designed mid-century modern enclaves dotting the valley: Davis, Woodland, Elk Grove, Carmichael, Citrus Heights, Fair Oaks, Orangevale, Natomas, etc. Several of the more well known include River City Commons, Evergreen Commons, Shelfield Oaks, Willhagin Estates, Williamson Ranch, and South Overbrook.
The Streng Brothers seemed to have had an almost intuitive grasp of where the valley was headed, and what was needed. The enclaves are not sprawling, endlessly repeating, cookie-cutter tracts – they're neighborhoods. Some (River City & Evergreen Commons) even include private parks that foster a safe and family friendly place to create that all-important sense of community. These homes were affordable, and the Streng Brothers fought for and received FHA approval -- a legacy that is still profoundly shaping these lovely neighborhoods. Many are still filled with teachers, professors, and a variety of other professionals. Several have neighborhood associations with an online presence -- filled with photos, upcoming events, residents' stories, and even favorite recipes (see the links on the far left).
Although categorized as mid-century modern (a.k.a. MCM, Postwar Modern, or California Modern), deserving of historic note and preservation, these homes truly were forward looking. They fit today's "modern" lifestyle seamlessly. The Streng Bros. worked with Carter Sparks to create a home, uniquely suited to the hot Sacramento valley: interior atriums domed with tinted acrylic to block heat, exposed aggregate flooring enhances cooling, open living areas allow free flowing AC, and lots of natural sunlight without the "hotbox" effect. Moreover, these homes provide a private retreat from the hectic 21st century world, with front exteriors that are setback and substantially closed-off from the road, and back exteriors with lots of windows and sliders that tend to open into beautifully landscaped backyards and patios.
The story of how Jim and Bill Streng came to be Sacramento visionaries is a fascinating tale. According to David Weinstein from the pages of the Eichler Network Newsletter: The brothers, who were raised in Pennsylvania and educated at Dartmouth, came to California in the 1950s where they worked with their 'Uncle Phil' Heraty. In 1957 Heraty quit. Several subdivisions were underway, and he offered these to top members of his staff. "Jim and I drew Sacramento," Bill says. They were building "typical garage-dominant Sacramento Valley" ranch-style homes, Bill says. But the economy was tough. "We perceived that if we did what everybody else was doing, we were not destined to do well," he says . . . They began thinking modern . . . Then Jim ran into Carter Sparks at a class for expectant parents they were attending with their wives. Sparks was a young architect but was already known as Sacramento's modernist. He had been building custom homes in the Sacramento area since the mid-1950s. (Read the entire article, Valley of the Atriums, in a new window) And so, the men, with new families on the way, would create a variety of new family havens in Sacramento.
Left are some original Streng Brothers marketing items. Click on any one to enlarge.
Bottom-Left is a cool link to some original Streng Brothers' Floor Plans in a new window.